iERP Functionality
About iERP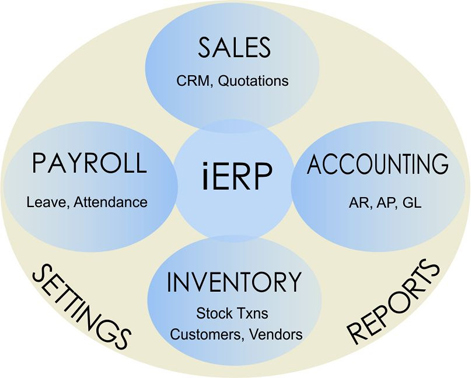 iERP is an integrated Enterprise Resource Management Software for all functions of an Organization. It provides an easy to use interface and is completely web-based.

It comprises of all the Modules with most of the generic functionalities built-in. Settings and Parameters help to customize the software as per the organizational requirements. Exhaustive Reports are available to retrieve Information quickly.

It has been built on a SaaS model with the application hosted on a Cloud-based server. Data is hosted securely and 24X7 technical support is available.

Payroll

Using payroll software can speed up the process of calculating pay accurately, and making payments on time. It can reduce the burden of understanding complex payroll legislation and payroll systems operation. As a consequence, it can also reduce administrative costs.

Payroll is a business-critical operation for every organisation - people must be paid accurately and on time. It is therefore essential to train staff properly, and implement procedures and disaster recovery plans to ensure payroll system continuity. Many businesses choose to outsource payroll services - if you decide to keep payroll in-house, you will need to select the right software for your business.

It is important to select a reliable supplier. Unlike most other business functions, you are dependent on a payroll supplier not only for training, support and help if things go wrong, but also for regular updates when tax and other figures change, and when there are alterations to legislation.

Inventory Management

Inventory management is primarily about specifying the shape and percentage of stocked goods. It is required at different locations within a facility or within many locations of a supply network to precede the regular and planned course of production and stock of materials.

The scope of inventory management concerns the fine lines between replenishment lead time, carrying costs of inventory, asset management, inventory forecasting, inventory valuation, inventory visibility, future inventory price forecasting, physical inventory, available physical space for inventory, quality management, replenishment, returns and defective goods, and demand forecasting. Balancing these competing requirements leads to optimal inventory levels, which is an on-going process as the business needs shift and react to the wider environment.

Definition of Inventry Management

Inventory management is primarily about specifying the size and placement of stocked goods. Inventory management is required at different locations within a facility or within multiple locations of a supply network to protect the regular and planned course of production against the random disturbance of running out of materials or goods. The scope of inventory management also concerns the fine lines between replenishment lead time, carrying costs of inventory, asset management, inventory forecasting, inventory valuation, inventory visibility, future inventory price forecasting, physical inventory, available physical space for inventory, quality management, replenishment, returns and defective goods and demand forecasting.

Accounts

Every enterprise purchases goods, services, assets, or office supplies from its suppliers (also known as vendors). Accounts Payable pays these suppliers on time (taking advantage of payment discounts if possible) while avoiding duplicate payments and bank over-drafts. Accounts Payable is the last step in the supply chain where Purchasing is the first. Accounts Payable accepts invoices, selects invoices to be paid, generates checks and forecasts future cash requirements based on due dates. Some AP checks are issued to people or organizations that are not worth putting on file since they are likely to receive only one check. Some enterprises prepay part of the invoice amount because the supplier requires a deposit. Every ERP has an Accounts Payable module.

Attendance

Human Resources is another widely implemented ERP module. ERP HR module streamlines the management of human resources and human capitals. HR modules routinely maintain a complete employee database including contact information, salary details, attendance, performance evaluation and promotion of all employees. Advanced HR module is integrated with knowledge management systems to optimally utilize the expertise of all employees.

ERP HR modules, refers to the systems and processes at the intersection between human resource management (HRM) and information technology. On the whole, these ERP systems have their origin on software that integrates information from different applications into one universal database. The linkage of its financial and human resource modules through one database is the most important distinction to the individually and proprietary developed predecessors, which makes this software application both rigid and flexible.

The HR management module is a component covering many other HR aspects from application to retirement. The system records basic demographic and address data, selection, training and development, capabilities and skills management, compensation planning records and other related activities. Leading edge systems provide the ability to "read" applications and enter relevant data to applicable database fields, notify employers and provide position management and position control. Human resource management function involves the recruitment, placement, evaluation, compensation and development of the employees of an organisation. Initially, businesses used computer based information system to:
produce pay checks and payroll reports
maintain personnel records
pursue Talent Management
In the transactions of the payroll module the user is allowed entering the daily attendance data of all the employees of the company on the payroll. The user can mark the entire employee's data as present or absent. Also if the operator of the company has done any overtime then the user of the software can enter the data relating to the operators overtime.

Also the processing of the pay roll and the attendance can be done in this module. The reports will correctly specify the leaves and the attendance taken of the employee after the processing of the attendance has been done.

The Work Time gathers standardized time and work related efforts. The most advanced modules provide broad flexibility in data collection methods, labour distribution capabilities and data analysis features. Cost analysis and efficency metrics are the primary functions.

The Benefits Administration module provides a system for organizations to administer and track employee participation in benefits programs. These typically encompass, insurance, compensation, profit sharing and retirement.

Settings

ERP systems were developed based on generic need of various types of organizations, belonging to diverse business segments and further evolved through continuous adding up of new business processes. Consequently, any ERP system now offers numerous functionalities, which overwhelm most of the enterprises, during project implementation. Enterprises are needed to pickup relevant components of the system and set up and align these components to meet their specific business requirement.

Reports

Eresource ERP Cost Management feature provides visibility of cost at a single market place. With competition increasing the pressure on margins, your business needs accurate and detailed manufacturing cost reporting for effective business management.

Eresource ERP provides extensive cost information at several levels that helps the business owner to identify cost elements and reduce product cost. Product Manufacturing costing elements in eresource is formulated based of different parameters, including, routing, machines, production volumes, batch sizes, depreciation, labour, material cost, admin cost, selling cost, etc.

Further eresource ERP support multiple inventory valuation methods so you can choose the costing method that best reflects your company's business. For example, eresource ERP has features that let your company compare estimates and production costs for different work centers, machines, employees, and order quantities while monitoring overtime, indirect hours, subcontracted jobs and other costs.
Additionally, you can choose standard, LIFO (Last in first out), FIFO (First in first out), moving average unit, or lot costing, and costing methods can be assigned by item.

Eresource ERP provides extensive information about production cost at several levels, which gives you the visibility you need to identify cost drivers and reduce product costs

Sales

TO keep pace with rapid changes in the business world, companies need an integrated and flexible enterprise system that supports all aspects of their business with state-of-the-art functionality. This innovative solution should upgrade effortlessly and interface easily with third-party applications as well as have the ability to incorporate existing systems while extending its reach to the Internet and e-commerce.

In today's competitive business environment, companies are increasingly being forced to streamline business processes. In a world where it is no longer enough to simply have the best product, companies are focusing on core competencies and closer partnerships over the whole supply chain.

Here, increased efficiency in sales and distribution is a key factor to ensure that companies retain a competitive edge and improve both profit margins and customer service. In helping business to 'beat them on delivery', the Sales and Distribution module of eresource ERP systems offers a comprehensive set of best-of-bred component for both order and logistics management.

Eresource ERP system is tightly integrated with the Sales and Distribution module. This integration enables the mapping and supply of single-site or multi-site organizations. Developing precise logistics planning for just-in-time deliveries, this system can also generate replenishment orders by using defined warehouse requirements.

The following are the sales related business transactions:


Sales queries, such as inquiries and quotations
Sales orders
Outline agreements, such as contracts and scheduling agreements
Delivery/Shipment
Invoicing/billing
After sales support
During sales order-processing the following basic functions are carried out:


Enquiry handling
Quotation preparation and processing
Contracts and contact management (order management)
Monitoring the sales transaction
Checking for availability
Transferring requirements to materials planning (MRP)
Scheduling the delivery
Calculating pricing and taxes
Checking credit limits
Invoicing/billing
Creating printed or electronically transmitted documents
Depending on how your particular system is configured, these functions may be completely automated. The data that results from these basic functions is stored in the system where it can be displayed. Eresource ERP 's Sales and Distribution module very actively interacts with the material management and financial accounting module for delivery and billing.

Related Links

Hot Links

Portfolio